Vivek Ramaswamy, the youngest 2024 Republican presidential candidate and self-proclaimed political outsider, on Sunday made his "America first" pitch for the White House while defending his view that the U.S. must force "major concessions" from Ukraine in order to end Russia's invasion and allow a sharper focus on facing China.
Interested in
Foreign Policy 2024?
Add Foreign Policy 2024 as an interest to stay up to date on the latest Foreign Policy 2024 news, video, and analysis from ABC News.
"The job of the U.S. president is to look after American interests," he told ABC "This Week" co-anchor Martha Raddatz, arguing that militarily backing Ukraine's continued resistance to Russia's invasion is a less compelling goal than dealing with Beijing.
Ramaswamy's position on Ukraine and Russia puts him in the minority among politicians, with leading Republicans and Democrats saying Russia's invasion must not be successful in order to preserve stability in Europe.
"You said in a speech in New Hampshire on Friday that you would not spend another dime of American money on a war that does not affect our interests. You don't think the possibility of Russia taking over Ukraine is in our interest?" Raddatz asked him on "This Week."
"I don't think that's a top foreign policy priority," Ramaswamy said, later adding, "I don't think it is preferable for Russia to be able to invade a sovereign country that is its neighbor. But ... I think the No. 1 threat to the U.S. military is right now, our top military threat, is the China-Russian alliance. I think that by fighting further in Russia, by further arming Ukraine, we are driving Russia into China's hands."
Instead, he said, he would "end this war" as long as Putin ended his country's alliance with China.
"No one tells Vladimir Putin what to do. That has not worked yet," Raddatz pressed. "And you said you would want to give them the Donbas [a region of Ukraine currently occupied by Russia]. ... That would be rewarding Putin, wouldn't it?"
"I don't trust Putin, but I do trust Putin to follow his self-interest," Ramaswamy maintained.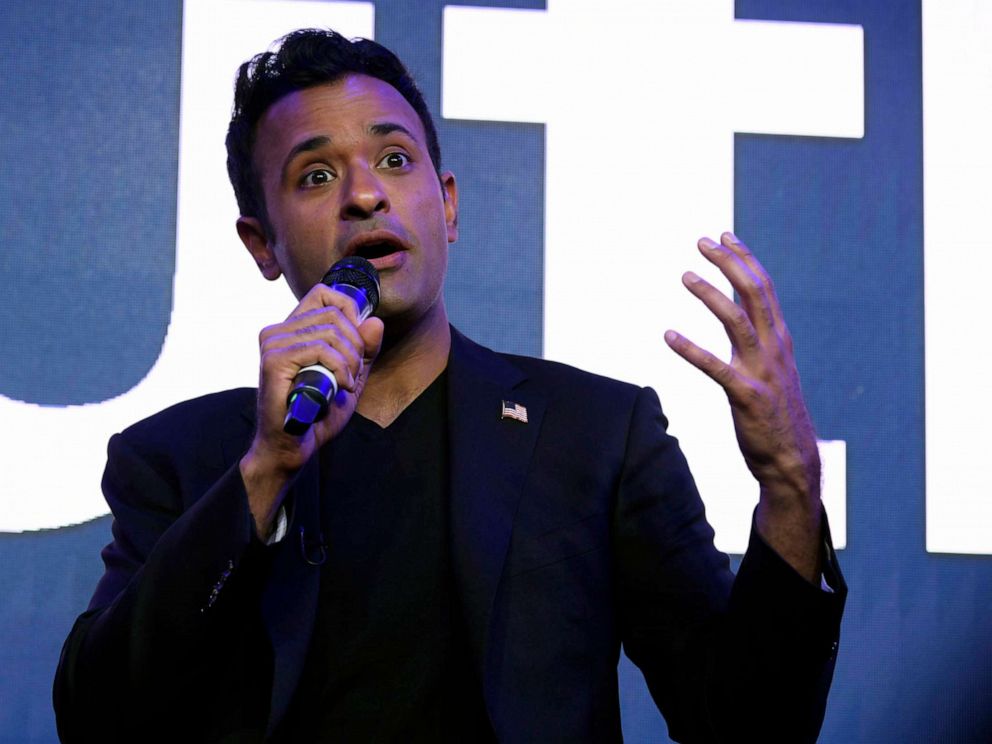 "What I think we need to do is end the Ukraine war on peaceful terms that, yes, do make some major concessions to Russia, including freezing those current lines of control in a Korean-war style armistice agreement. ... Which Ukraine wouldn't want to do," he continued. "And also a permanent commitment not to allow Ukraine to enter NATO. But in return, Russia has to leave its treaty and its joint military agreement with China."
Ramaswamy raised concerns of a future invasion of Taiwan, the self-governing island that Beijing views as a breakaway province.
Stopping a war there "is a much higher priority," he said.
"China's bet is that they're going to go for Taiwan, the U.S. won't want to be in simultaneous conflict with two nuclear superpowers at the same time. But if Russia's no longer at China's back and vice versa, we're in a stronger position," he said.
Early in Ramaswamy's "This Week" interview, Raddatz noted that he is polling in the back of the pack of GOP hopefuls and asked him on how he would walk the "fine line" of appealing to former President Donald Trump's base, who make up a large number of Republican primary voters.
"America first does not belong to Trump. It doesn't belong to me," said Ramaswamy, a former biotech entrepreneur. "It belongs to the people of this country. And I think we take that agenda even further if we're doing it based on first principles and moral authority, as [Ronald] Reagan did, rather than on vengeance and grievance."
No revival of Trump's trans military ban
In light of his criticism of "woke" policies around identity, diversity and historical oppression, Ramaswamy was asked by Raddatz if, as president, he would revive a controversial Trump-era ban on transgender military members that was reversed under President Joe Biden.
"I would not reinstate a ban on transgender members," Ramaswamy said. "I would, however, be very clear that for kids, that's where my policies are very focused."
Conservatives have increasingly called out policies around transgender children that they view as concerning, including pushing for limits on the health care that those kids can receive related to their gender, arguing they are extreme, which advocates and many doctors reject.
"We should not be foisting this ideology onto children," Ramaswamy said.